Welcome to the ACTA
Clay Target Shooting is a sport that can be enjoyed by the whole family as a recreation at a local gun club, or at a competition level from registered club events to regional, state, national and international competitions. These include World Championships, Commonwealth and Olympic Games.
Clay Target Shooting has different disciplines to try which include: Trap, Skeet, ISSF and Sporting Clays. Each discipline varies in its approach and delivery of targets to give a choice and different experience with Clay Target Shooting.
The Australian Clay Target Association is responsible for administering, promoting and developing the sport of Clay Target Shooting. This site provides clubs, members and visitors with information and news regarding our sport.
We provide information on events for local, state, national & international competitions. You'll find many areas of interest including Coaching, Referees, Membership, Hall of Fame, the Clay Target Shooting News magazine & more.
---
February 2020 CTSN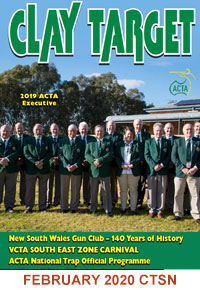 In this months edition:
On the cover - 2019 ACTA Executive


New South Wales Gun Club - 140 years of history
VCTA South East Carnival
ACTA National Trap Official Program
ACTA National Trap Winners 1936 - 2019
Iraq-Afghanistan War Remembrance Cup
Wojcik & Motha Share Wangaratta Christmas Joy
ACTA Presidential Medal Nominations
Christmas Cheer at Bega
Maryborough Christmas Shoot